Mercedes Benz C-Class (W204) Training Manual: Voice Control System (VCS)
The voice control system is able to control the following systems for vehicle telematics:
Telephone
Navigation
Address book
Audio systems (radio, CD/DVD, MP3, hard disk, etc.)
Further developments of already familiar systems have once again lead to considerable improvements. The following functions are, for example, possible for telephone operation:
Selecting a name from the telephone book without prior voice tag
Selecting a name from the telephone book with prior voice tag
Listening to the telephone book
Entering a telephone number in one go (complete)
Entering a telephone number in groups
Entering a telephone number number-by-number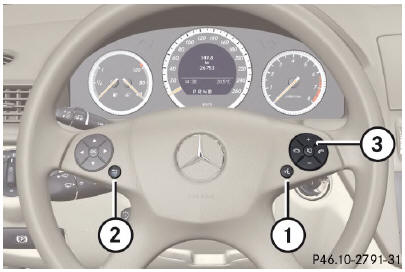 Legend
Voice control activate button
"Abort" button
Accept call
Complex names (towns, streets) can now also be spoken when controlling navigation and no longer have to be spelled. Of course, a "retraining" function is also available.
See More:
Mercedes-Benz C-Class Owners Manual > General notes: Data storage
Electronic control units Electronic control units are installed in your vehicle. Some of these are necessary for the safe operation of your vehicle, while some assist you when driving (driver assistance systems). In addition, your vehicle provides comfort and entertainment functions, which are also ...
Mercedes-Benz C-Class Owners Manual
Mercedes Benz C-Class (W204) Training Manual
© 2021 Copyright www.mersec.net
0.0087