Mercedes Benz C-Class (W204) Training Manual: M271 Features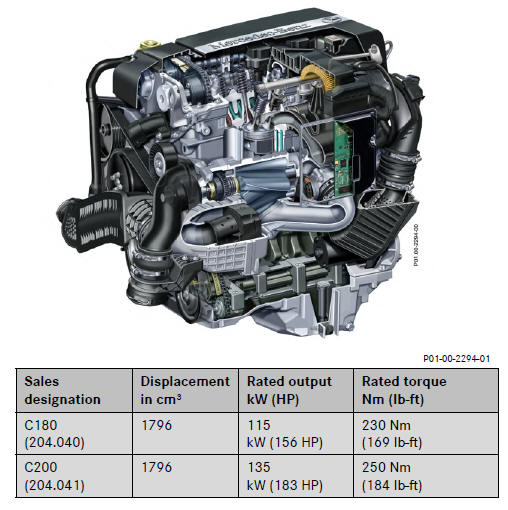 Technical features:
4-cylinder in-line engine
Aluminum crankcase with cast iron cylinder barrels
4-valve technology with 2 camshafts
Lanchester balancer (to compensate for free inertial forces)
Continuously variable camshaft adjustment of the intake/exhaust camshafts
Internal exhaust gas recirculation (via the camshaft adjustment)
2 crankcase ventilation systems (partial & full load)
Engine control unit mounted on the engine
Engine control unit with CAN gateway function
SIM 4 LKE gasoline injection and ignition system (Siemens)
Fuel system with fuel pump control unit (N118)
Compressor charging via an EATON charger
Charge air cooling
Dedicated ignition coils
Catalytic converters mounted close to the engine
Linear lambda control (wide-band sensor)
Exhaust certification in accordance with EURO 4
Vacuum pump
See More:
Mercedes-Benz C-Class Owners Manual > Multimedia system: Radio
Switching on the radio Multimedia system: Radio Alternatively: press the button. The radio display appears. You will hear the last station played on the last frequency band selected. Radio overview Active frequency band Station name or set frequency Artist, title, album and radio text Station list P ...
Mercedes-Benz C-Class Owners Manual
Mercedes Benz C-Class (W204) Training Manual
© 2022 Copyright www.mersec.net
0.0047