Mercedes-Benz C-Class Owners Manual: Adding washer fluid to the windshield washer system
WARNING Risk of burns from hot component parts in the engine compartment
Certain components in the engine compartment can be very hot, e.g. the engine, the radiator and parts of the exhaust system.
Allow the engine to cool down and only touch component parts described in the following.
WARNING Danger of burns when opening the hood
If you open the hood when the engine has overheated or during a fire in the engine compartment, you could come into contact with hot gases or other escaping operating fluids.
Before opening the hood, allow the engine to cool down.
In the event of a fire in the engine compartment, keep the hood closed and call the fire service.
WARNING ‑ Risk of fire and injury from windshield washer concentrate
Windshield washer concentrate is highly flammable. It could ignite if it comes into contact with hot engine component parts or the exhaust system.
Make sure that no windshield washer concentrate spills out next to the filler opening.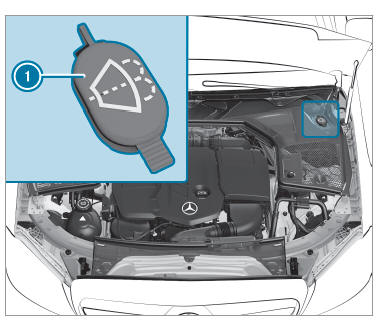 Remove cap 1 by the tab.
Add washer fluid.
Keeping the air-water duct free
Keep the area between the hood and the windshield free of deposits, e.g. ice, snow and leaves.
See More:
Mercedes-Benz C-Class Owners Manual > Opening and closing: Doors
Unlocking and opening doors from the inside To unlock and open a front door: pull door handle 2. Locking pin 1 pops up when the door is unlocked. To unlock a rear passenger compartment door: pull the rear passenger compartment door handle. The locking pin pops up when the rear passenger compartment ...
Mercedes-Benz C-Class Owners Manual
Mercedes Benz C-Class (W204) Training Manual
© 2020 Copyright www.mersec.net
0.0212