Mercedes-Benz C-Class Owners Manual: Overview of tire labeling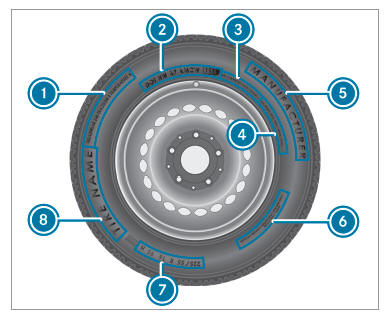 Uniform Tire Quality Grading Standard
DOT, Tire Identification Number
Maximum tire load
Maximum tire pressure
Manufacturer
Characteristics of the tire
Tire size designation, load-bearing capacity, speed rating and load index
Tire name
The data shown in the image is example data.
See More:
Mercedes-Benz C-Class Owners Manual > Display messages: Introduction
Notes on display messages Display messages appear on the multifunction display. Display messages with graphic symbols are simplified in the Operator's Manual and may differ from the symbols on the multifunction display. The multifunction display shows high-priority display messages in red. Certain d ...
Mercedes-Benz C-Class Owners Manual
Mercedes Benz C-Class (W204) Training Manual
© 2021 Copyright www.mersec.net
0.0126