Mercedes-Benz C-Class Owners Manual: Removing a wheel
Requirements:
Mercedes-AMG vehicles: observe the notes in the Supplement. Otherwise, you may not recognize dangers.
When changing a wheel, avoid applying any force to the brake discs, since this could impair the level of comfort when braking.
NOTE Damage to threading from dirt on wheel bolts
Do not place wheel bolts in sand or on a dirty surface.
Unscrew the uppermost wheel bolt completely.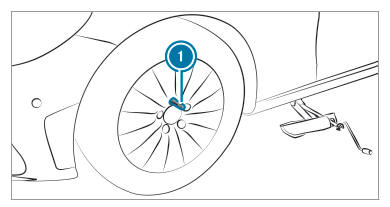 Screw alignment bolt 1 instead of the wheel bolt into the threading.
Unscrew the remaining wheel bolts fully.
Remove the wheel.
Install the new wheel.
See More:
Mercedes-Benz C-Class Owners Manual > System settings : Data import and export
Data import/export function The following functions are possible: Transferring data from one system or vehicle to another system or vehicle. Creating a backup copy of your personal data and loading it again. Protecting your personal data against unwanted export with PIN protection. Please note that ...
Mercedes-Benz C-Class Owners Manual
Mercedes Benz C-Class (W204) Training Manual
© 2021 Copyright www.mersec.net
0.0097