Mercedes Benz C-Class (W204) Training Manual: Passenger safety
Top tether
TopTether enables an additional connection between the child restraint equipment fastened with ISOFIX and the rear seat. Injury risks are thus reduced even further. Both TopTether anchors are located in the rear on the rear shelf, behind the outer head restraints.
Legend
Head restraint
Cover
TopTether anchor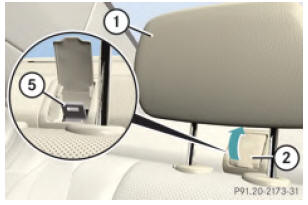 Push the head restraint 1 up.
Guide the TopTether belt 3 under the head restraint 1 between the two head restraint rods.
Fold the cover 2 of the TopTether anchor 3 up.
Insert the TopTether hook 4 in the TopTether anchor 5.
Fold the cover 2 of the TopTether anchor 5 down.
If necessary, push the head restraint 1 down a bit. Pay attention that the TopTether belt 3 is not hindered.
Install the ISOFIX child restraint equipment with TopTether. The assembly instructions from the manufacturer must be followed without fail.
Legend
TopTether belt in the ISOFIX child restraint equipment
TopTether hooks
Tether anchor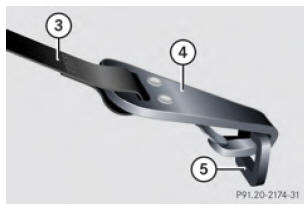 See More:
Mercedes-Benz C-Class Owners Manual > Tire pressure: Notes on tire pressure
WARNING Risk of accident due to insufficient or excessive tire pressure Underinflated or overinflated tires pose the following risks: The tires may burst, especially as the load and vehicle speed increase. The tires may wear excessively and/or unevenly, which may greatly impair tire traction. The d ...
Mercedes-Benz C-Class Owners Manual
Mercedes Benz C-Class (W204) Training Manual
© 2021 Copyright www.mersec.net
0.0092