Mercedes Benz C-Class (W204) Training Manual: M272 Features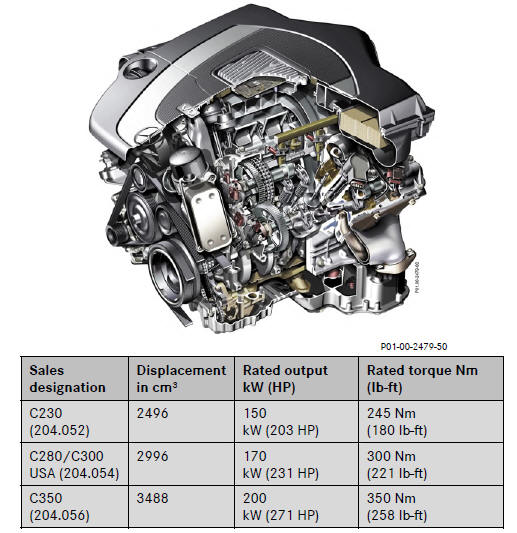 Technical features:
V6 engines with 60º cylinder angle
Aluminum crankcase with silicon-coated barrels (SILITEC)
4-valve technology with two camshafts per cylinder bank
Balance shaft (to compensate for free inertial forces)
Weight-reduced pistons and rods
Infinite camshaft adjustment of the intake/exhaust camshafts of up to 40º CA
Internal exhaust gas recirculation (via the camshaft adjustment)
2 crankcase ventilation systems (partial & full load)
Engine control unit mounted on the engine
Engine control unit with CAN gateway function
ME9.7 gasoline injection and ignition system (Bosch)
Fuel system with fuel pump control unit (N118)
Variable intake manifold with variable length intake manifold switchover flaps and swirl flaps
HFM 6 hot film mass air flow sensor (frequency output)
Dedicated ignition coils
Catalytic converters mounted close to the engine
Linear lambda control (wide-band sensor)
Engine thermal management with electrical three-disk thermostat
Exhaust certification in accordance with EURO 4
See More:
Mercedes-Benz C-Class Owners Manual > Navigation: Route
Calculating a route Requirements: The destination has been entered. The destination address is shown. If route guidance is not active, select Start Route Guidance. The route to the destination is calculated. The map shows the route. Route guidance then begins. or If route guidance is active, select ...
Mercedes-Benz C-Class Owners Manual
Mercedes Benz C-Class (W204) Training Manual
© 2021 Copyright www.mersec.net
0.0085