Mercedes Benz C-Class (W204) Training Manual: OM646 EVO Features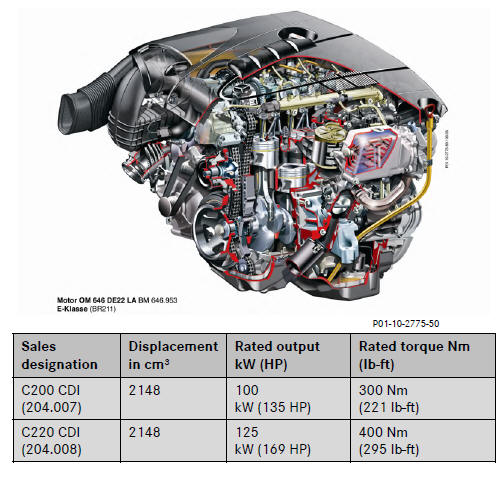 Technical features:
4-cylinder in-line engine
Cast iron crankcase
4-valve technology with two camshafts
Lanchester balancer (to compensate for free inertial forces)
Crankcase ventilation system with electrical heating element
Engine control unit with CAN gateway function
CDI-D common rail diesel injection (Delphi)
Max. injection pressure 1600 bar
Magnet fuel injectors
Maximum peak pressure in the combustion chamber up to 165 bar
VTG turbocharger with electrical actuator motor (variable turbine geometry) stage 3
Charge air cooling
Intake air throttling via the throttle valve actuator (only diesel particulate filter)
Intake port shutoff (EKAS) with electrical actuator motor
Exhaust gas recirculation with electrical actuator motor
Diesel particulate filter
Instant Start System
Glow plugs with ceramic glow pins
Knock sensor
Oil level switch and oil temperature sensor
Certification in accordance with EURO 4
See More:
Mercedes-Benz C-Class Owners Manual > Stowage areas: EASY-PACK trunk box
Adjusting the height of the EASY-PACK trunk box to any position WARNING Risk of becoming trapped and injured when moving the floor up When the floor moves up, your hands may become trapped on the frame of the EASY-PACK trunk box and objects may be thrown up. When the floor moves up, make sure that y ...
Mercedes-Benz C-Class Owners Manual
Mercedes Benz C-Class (W204) Training Manual
© 2021 Copyright www.mersec.net
0.0119