Mercedes Benz C-Class (W204) Training Manual: Opening and closing in the case of an emergency
Unlock driver door
Release and remove the emergency key
Pull the release slide 1 in the direction of the arrow and fully pull the emergency key 2 out of the key at the same time.
Legend
Release slide
Emergency key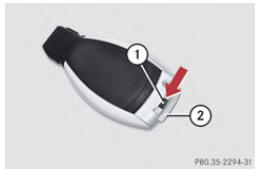 Insert the emergency key up to the stop in the lock and turn counterclockwise to position 1.
The locking pin moves up and the door is unlocked.
Legend
Unlock
Lock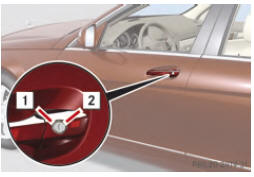 Lock vehicle
If your vehicle can no longer be centrally locked with the key:
Close the front passenger door, rear doors, and trunk.
Press the central locking switch.
Check if the locking pins are still visible on all doors. If necessary, press down the locking pins in the front passenger door and rear doors by hand.
Lock the vehicle from outside at the driver door using the emergency key. Turn key to position 2. The locking pin on the driver door will move down. The door is locked.
Check that all doors and the trunk are locked.
See More:
Mercedes-Benz C-Class Owners Manual > Stowage areas: Hooking in the parcel net
WARNING Risk of injury due to objects being stowed incorrectly If you do not adequately stow objects in the vehicle interior, they could slip or be tossed around and thereby strike vehicle occupants. In addition, cup holders, open stowage spaces and mobile phone brackets cannot always restrain the ...
Mercedes-Benz C-Class Owners Manual
Mercedes Benz C-Class (W204) Training Manual
© 2021 Copyright www.mersec.net
0.0096