Mercedes Benz C-Class (W204) Training Manual: Resetting triggered NECK-PRO head restraints
If the NECK-PRO head restraints were triggered during an accident, you have to reset the head restraints for the driver and front passenger seats.
Otherwise, this additional protection will not be available during a later rear end collision. Triggered head restraints can be recognized by the fact that they are moved forward and can no longer be adjusted.
Press the lower head restraint padding to the rear up to the stop 1.
Press the head restraint padding down to the stop in the guide 3.
Firmly press the top of the head restraint padding until it folds back and engages 2.
Legend
Fold back
Press back
Press down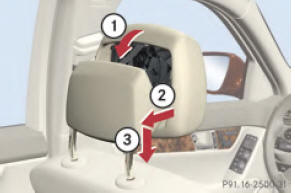 See More:
Mercedes Benz C-Class (W204) Training Manual > Chassis: Front Axle
To achieve maximum vehicle dynamics, the front axle units including the steering gear are preassembled together with the engine and transmission on a frame-type integral support. The principle of a 3-link front axle, but in a more advanced design, has been selected for the front suspension. Its basi ...
Mercedes-Benz C-Class Owners Manual
Mercedes Benz C-Class (W204) Training Manual
© 2022 Copyright www.mersec.net
0.009