Mercedes Benz C-Class (W204) Training Manual: OM642 Features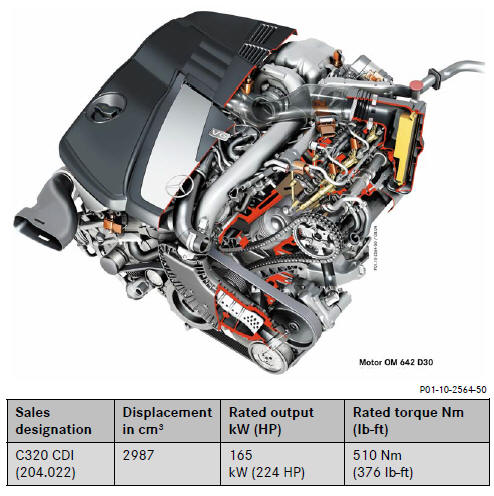 Technical features:
V6 engine with 72º cylinder angle
Aluminum crankcase with cast iron cylinder barrels
4-valve technology with two camshafts per cylinder bank
Balance shaft (to compensate for free inertial forces)
Crankcase ventilation with centrifugal oil separator
Engine control unit with CAN gateway function
CDI 6 common rail direct injection (Bosch)
Max. injection pressure 1600 bar
Piezo fuel injectors
Maximum peak pressure in the combustion chamber up to 175 bar
VTG turbocharger with electrical actuator motor (variable turbine geometry) stage 2
Charge air cooling
Intake air throttling via the throttle valve actuator (exhaust gas recirculation & diesel particulate filter regeneration)
Intake port shutoff (EKAS) with electrical actuator motor
Exhaust gas recirculation with electrical actuator motor
Diesel particulate filter
Instant Start System
Oil level switch and oil temperature sensor
Certification in accordance with EURO 4
See More:
Mercedes-Benz C-Class Owners Manual > System settings : Software update
Information on software updates The multimedia system provides a message when an update is available. Depending on the source, you can perform various updates: Software update Source of the update Update type Updates via mobile phone Navigation map, system updates, Digital Operator's Manual Updates ...
Mercedes-Benz C-Class Owners Manual
Mercedes Benz C-Class (W204) Training Manual
© 2021 Copyright www.mersec.net
0.0095