Function of ATTENTION ASSIST
ATTENTION ASSIST assists you on long, monotonous journeys, e.g. on highways and trunk roads.
If ATTENTION ASSIST detects indicators of fatigue or increasing lapses in concentration on the part of the driver, it suggests taking a break.
ATTENTION ASSIST is only an aid. It cannot always detect fatigue or lapses in concentration in time. The system is not a substitute for a wellrested and attentive driver. On long journeys, take regular breaks in good time that allow for adequate recuperation.
You can choose between two settings.
Standard: normal system sensitivity.
Sensitive: higher system sensitivity. The driver is warned earlier and the attention level detected by ATTENTION ASSIST is adapted accordingly.
If drowsiness or increasing lapses in concentration are detected, the ATTENTION ASSIST: Take a Break! warning appears in the instrument display.
You can acknowledge the message and take a break where necessary. If you do not take a break and ATTENTION ASSIST continues to detect increasing lapses in concentration, you will be warned again after a minimum of 15 minutes.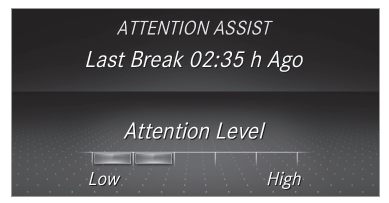 You can have the following status information for ATTENTION ASSIST displayed in the assistance menu of the on-board computer:
The length of the journey since the last break.
The attention level determined by ATTENTION ASSIST.
If ATTENTION ASSIST is unable to calculate the attention level and cannot issue a warning, the System Suspended message appears.
If a warning is given in the instrument display, the multimedia system offers to search for a rest area. You can select a rest area and start navigation to this rest area. This function can be activated and deactivated in the multimedia system.
If ATTENTION ASSIST is deactivated, the

symbol appears in the assistance graphic in the instrument display when the engine is running.
ATTENTION ASSIST is activated automatically when the engine is re-started. The last selected sensitivity level remains stored.
System limitations
ATTENTION ASSIST is active in the 37 mph (60 km/h) to 124 mph (200 km/h) speed range.
The functionality of ATTENTION ASSIST is restricted, and warnings may be delayed or not occur at all in the following situations:
If you have been driving for less than approximately 30 minutes.
If the road condition is poor (uneven road surface or potholes).
If there is a strong side wind.
If you adopt a sporty driving style (high cornering speeds or high rates of acceleration).
If the Steering Assist function of Active Distance Assist DISTRONIC is active.
If the time has been set incorrectly.
In active driving situations, if you change lanes and vary your speed frequently.
The ATTENTION ASSIST tiredness or alertness assessment is deleted and restarted when continuing the journey in the following situations:
If you switch off the engine.
If you unfasten your seat belt and open the driver's door (e.g. changing drivers or taking a break).
Setting ATTENTION ASSIST
Multimedia system:
Vehicle → Assistance → ATTENTION ASSIST
Setting options
Select Standard, Sensitive or Off.
Suggesting a rest area
Select Suggest Rest Area.
Activate or deactivate the function .
If ATTENTION ASSIST detects fatigue or increasing lack of attention, it suggests a rest area in the vicinity.
Select a suggested rest area: you are guided to the selected rest area.