Calling up the Digital Operator's Manual
Multimedia system: Vehicle → Operator's Manual
In addition, you can also call up the Operator's Manual within a main function (e.g. via Media Info).
The Digital Operator's Manual describes the function and operation of the vehicle and the multimedia system.
For safety reasons, the Digital Operator's Manual is deactivated while driving.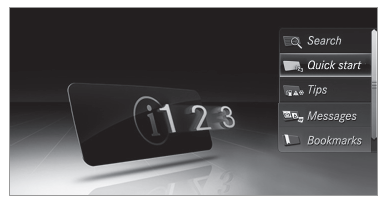 The Digital Operator's Manual contains the following menu items:
Search: allows you to search precisely for keywords.
Quick start: provides you with important information so that you can start using your vehicle immediately.
Tips: provides tips on how to use your vehicle in certain situations.
Messages: provides you with further information about the messages in the instrument cluster.
Bookmarks: provides you with a list of all the bookmarks you have stored yourself.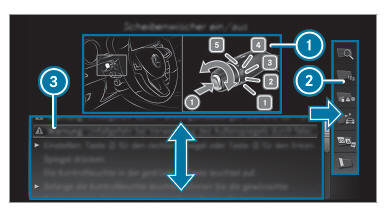 Picture
Menu
Navigation window
Some sections of the Digital Operator's Manual, such as warnings, can be made visible by highlighting and pressing them.
The Operator's Manual can also be found in the Mercedes-Benz Guides app in all common app stores.