Removing the safety vest
The safety vests are located in the safety vest compartments in the driver's and front passenger door stowage compartments.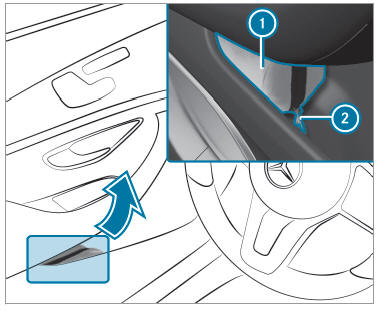 To remove: pull out safety vest bag 1 by loop 2.
Open safety vest bag 1 and pull out the safety vest.
There are also safety vest compartments in the rear door stowage compartments in which safety vests can be stored.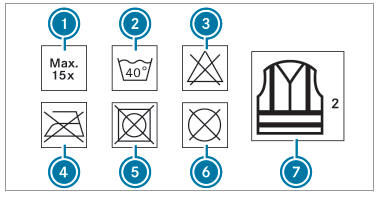 Maximum number of washes
Maximum wash temperature
Do not bleach
Do not iron
Do not tumble dry
Do not dry clean
Class 2 safety vest
The requirements defined by the legal standard are only fulfilled if the safety vest is the correct size and is fully closed.
The safety vest must be replaced in the following situations:
the reflective strips are damaged or dirty
the maximum permissible number of washes is exceeded
the fluorescence has faded
Warning triangle
Removing the warning triangle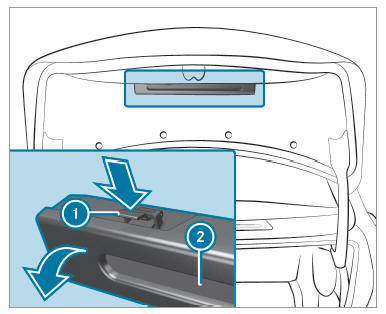 Push both sides of warning triangle holder 1 in the direction of the arrow and open it.
Remove warning triangle 2.
Setting up the warning triangle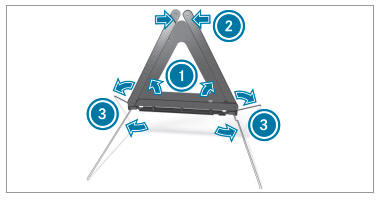 Fold side reflectors 1 upwards to form a triangle and attach at the top using upper press-stud 2.
Fold legs 3 down and out to the side.
First-aid kit (soft-sided) overview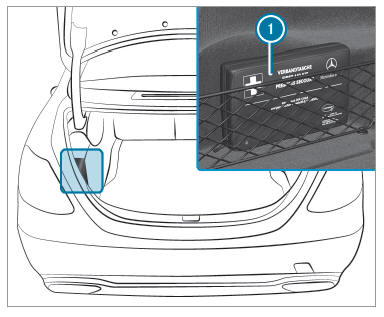 First-aid kit (soft sided) 1 is in the trunk in the left-hand stowage net.