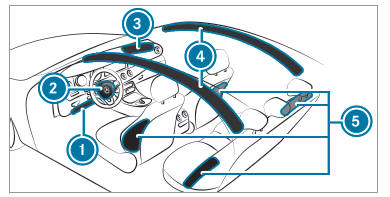 Knee airbag
Driver's airbag
Front passenger front airbag
Window curtain airbag
Side airbag
The installation location of an airbag is identified by the AIRBAG symbol.
When activated, an airbag can provide additional protection for the respective vehicle occupant.
Potential protection from each airbag:
| | |
| --- | --- |
| Airbag | Potential protection for ... |
| Knee airbag | Thigh, knee and lower leg |
| Driver's airbag, front passenger front airbag | Head and ribcage |
| Window curtain airbag | Head |
| Side airbag | Ribcage, also pelvis for front seat occupants |
The front passenger front airbag can only be deployed in an accident if the PASSENGER AIR BAG OFF indicator lamp is off. If the front passenger seat is occupied, make sure, both before and during the journey, that the status of the front passenger front airbag is correct.
NOTE Important points to remember if the front passenger seat is unoccupied
In an accident, the components of the restraint system may deploy unnecessarily on the front passenger side if:
There are heavy objects on the front passenger seat.
The seat belt tongue is engaged in the seat belt buckle of the front passenger seat and the front passenger seat is unoccupied.
Stow objects in a suitable place.
Only one person should use each seat belt at any one time.