Notes on refrigerants
Observe the notes on operating fluids.
NOTE Damage due to incorrect refrigerant
If a non-approved refrigerant is used, the climate control system may be damaged.
Only use the refrigerant R‑134a
NOTE Damage to the climate control system due to incorrect refrigerant compressor oil
Only use refrigerant compressor oil that has been approved by Mercedes-Benz.
Do not mix the approved refrigerant compressor oil with a different refrigerant compressor oil.
Work on the climate control system may be carried out only by a qualified specialist workshop.
All applicable regulations, as well as SAE standard J639, must be adhered to.
The instruction label on the climate control system for the refrigerant type and the refrigerant compressor oil is located on the inside of the hood.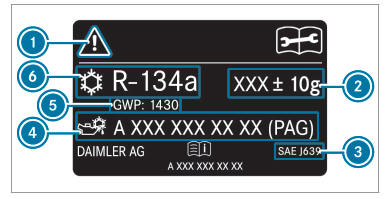 Hazard and service warning symbols
Refrigerant filling capacity
Applicable standards
PAG oil part number
GWP (Global Warming Potential) of the refrigerant used
Refrigerant type
Symbols 1 warn of the following:
Possible dangers
The need to have service work carried out at a qualified specialist workshop only
Refrigerant filling capacity
Filling capacity for refrigerant and PAG oil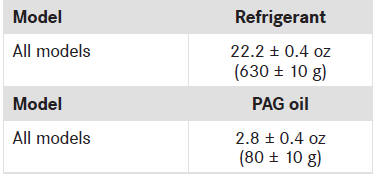 Vehicle data
Vehicle dimensions
The heights specified may vary as a result of the following factors:
Tires
Load
Condition of the suspension
Optional equipment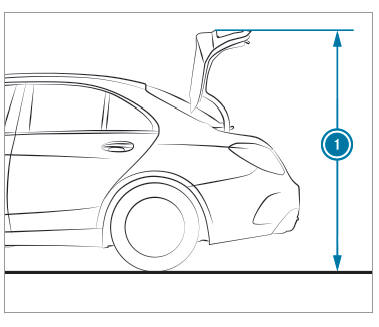 Height when opened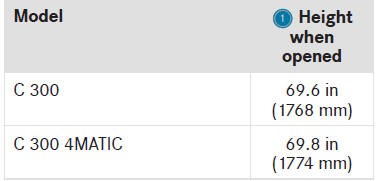 Vehicle dimensions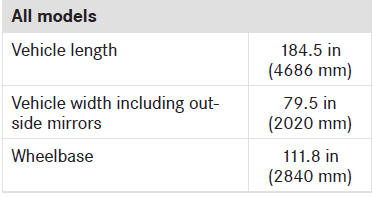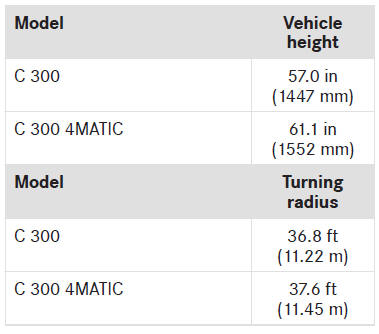 Weights and loads
Please note that for the specified vehicle data:
items of optional equipment increase the curb weight and reduce the payload.
Roof load