Location of airbags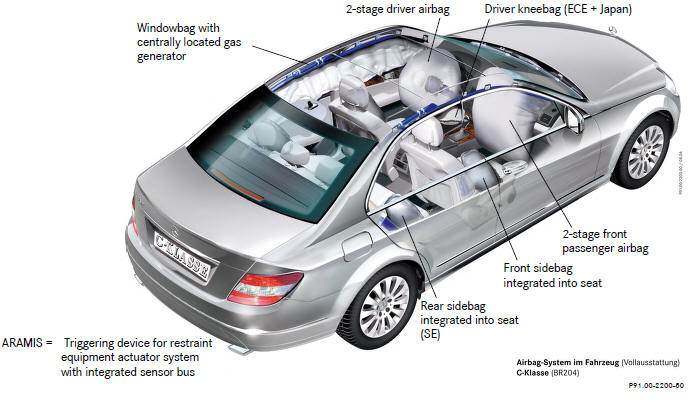 ARAMIS restraint system control unit
The ARAMIS control unit is used in the W204. ARAMIS is a new development that can also allow for future safety-related developments. Depending on the severity of the accident, among other things, it controls the triggering of driver and front passenger airbag, sidebags and windowbags, emergency tensioning retractors and NECK-PRO.
One belt buckle switch each acquires the belt buckled/not buckled status. A visual/acoustic seat belt reminder warning is integrated for the front seats for this purpose (Euro-NCAP countries only).
ARAMIS supports the following functions after an accident, depending on the severity of the accident:
Activation of the pyrofuse (via ignition circuit)
Door unlocking (in the event of a CAN interruption via front SAM crash sensor)
Window lowering by 50 mm
Activation of the crash-active head restraints in the event of a rear end collision
Digital crash output via chassis CAN
Activation of TeleAid (USA)
Activates hazard warning system
Engine shutoff via analog crash signal
Switches on crash-active emergency lighting
Information for Service
The supplemental restraint system control unit (N2/10) has integrated sensors. It must not be removed if the power supply is still active - airbags and emergency tensioning retractors will deploy.
Working on or with the control unit is only permitted while the battery is disconnected and after a waiting time of at least t = 3 s.
Belt status indication for rear seat belts
Vehicles with multifunction steering wheel (4-buttons)
Vehicles with comfort multifunction steering wheel* (12-buttons)
You will see the rear seat belt status indication in the multifunction display for around 30 seconds when you set off, as of a ground speed of around 9 km/h or for around 30 seconds if the rear passengers remove or fasten their seat belts.
*Special equipment