Mercedes Benz C-Class (W204) 2007 - 2014 Training Manual: Manually operating the tilting/sliding roof or panoramic tilting/sliding roof
The drive is located above the overhead control panel.
Pull the mirror base cover 1 down as far as possible and turn it to the side.
Legend
Mirror base cover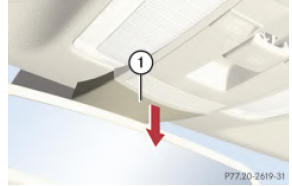 Insert a thin plastic plate 1 in the rear end of the overhead control panel 2 in the center of the gap between the headliner and overhead control panel.
Fold down the overhead control panel 2. The connectors do not have to be disconnected.
Ensure that the key is removed from the ignition switch.
Legend
Plastic plate
Overhead control unit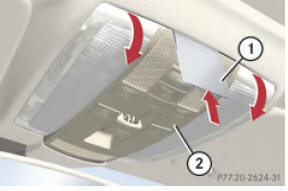 Remove the crank 1 from the owner's manual folder.
Insert the crank 1 in the motor drive.
Move the tilting/sliding roof by turning the crank in the appropriate direction.
Note: Only rotate the crank 1 slowly and without any jerking.
Remove the crank.
Replace and clip in the overhead control panel.
Clip in the mirror base cover again.
Legend
Crank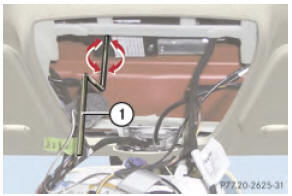 Mercedes-Benz C-Class (W205) 2015 - 2021 Owners Manual
Mercedes Benz C-Class (W204) 2007 - 2014 Training Manual
© 2022 Copyright www.mersec.net
0.0054