A so-called multifunction antenna is located in the rear section of the vehicle roof.
The following antennas can be found here, depending on the vehicle equipment:
Telephone (GSM)
Navigation (GPS)
Digital radio (DAB) only UK
Satellite radio (SDAR) only USA
Legend
A28/11 Multifunction antenna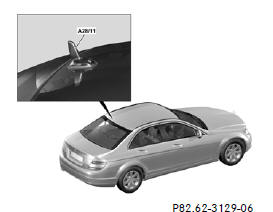 The Bluetooth antennas for the head unit (installed in all head units) are located in the overhead control panel. A further Bluetooth antenna in installed in the connector for the portable CTEL cradle for comfort telephony (see the chapter on telephones).
The AM/FM radio antennas and receiving antenna for central locking are located in the rear window again and are contacted via the two A2/18 and A2/19 antenna modules.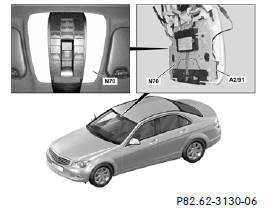 N70 Overhead control panel
A2/91 Bluetooth antenna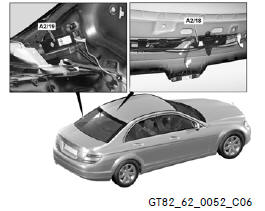 A2/18 FM, AM and CL antenna amplifier
A2/19 FM antenna amplifier