Mercedes-Benz C-Class (W205) 2015 - 2021 Owners Manual: Opening the trunk lid
DANGER Risk of exhaust gas poisoning
Combustion engines emit poisonous exhaust gases such as carbon monoxide. Exhaust gases can enter the vehicle interior if the trunk lid is open when the engine is running, especially if the vehicle is in motion.
Always switch off the engine before opening the trunk lid.
Never drive with the trunk lid open.
NOTE Damage to the trunk lid by obstacles above the vehicle
The trunk lid swings upwards when it is opened.
Therefore, make sure that there is sufficient clearance above the trunk lid.
You have the following options for opening the trunk lid:
Pull the trunk lid handle.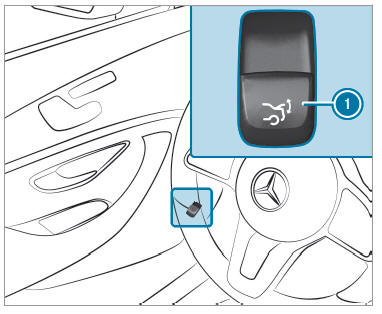 Vehicles with trunk lid convenience closing feature: If an object restricts the trunk lid during the automatic opening process, obstacle detection will stop the trunk lid. The obstacle detection function is only an aid and is not a substitute for your attentiveness.
Mercedes-Benz C-Class (W205) 2015 - 2021 Owners Manual
Mercedes Benz C-Class (W204) 2007 - 2014 Training Manual
© 2023 Copyright www.mersec.net
0.005