Mercedes-Benz C-Class Owners Manual: Switching the power supply or ignition on without starting the engine
WARNING Risk of accident and injury due to children left unattended in the vehicle
If children are left unattended in the vehicle, they could:
open doors, thereby endangering other persons or road users.
get out of the vehicle and be hit by oncoming traffic.
operate vehicle equipment and become trapped, for example.
In addition, children could also set the vehicle in motion, for example, by:
releasing the parking brake.
shifting the automatic transmission out of park position P.
starting the engine
Never leave children and animals unattended in the vehicle.
When leaving the vehicle, always take the SmartKey with you and lock the vehicle.
Keep the SmartKey out of the reach of children.
Requirements:
The SmartKey is in the vehicle and is recognized.
The brake pedal is not depressed.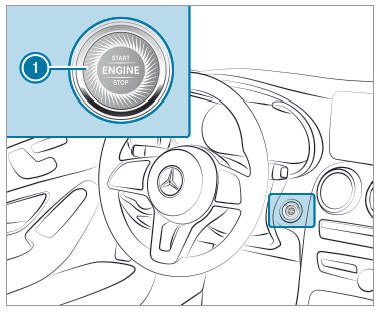 The power supply is switched off again if the following conditions are met:
You open the driver's door
You press button 1 twice.
The ignition is switched off again if one of the following conditions is met:
Vehicles with automatic transmission: you do not start the vehicle within 15 minutes and the transmission is in position P or the electric parking brake is applied.
You press button 1 once.
See More:
Mercedes-Benz C-Class Owners Manual > Flat tire: Notes on flat tires
WARNING Risk of accident due to a flat tire A flat tire severely affects the driving characteristics as well as the steering and braking of the vehicle.Tires without run-flat characteristics: Do not drive on with a flat tire. Change the flat tire immediately with an emergency spare wheel or spare w ...
Mercedes-Benz C-Class Owners Manual
Mercedes Benz C-Class (W204) Training Manual
© 2022 Copyright www.mersec.net
0.0046