Function of the Head-up Display
Mercedes-AMG vehicles: be sure to observe the information in the Supplement. Otherwise, you may not recognize dangers.
The Head-up Display projects into the driver's field of vision:
Information from the navigation system
Information from the driver assistance systems
Some warning messages
Display elements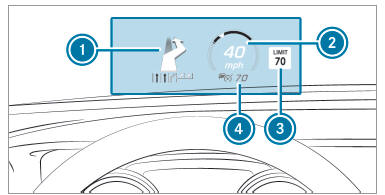 Navigation messages
Current speed
Detected instructions and traffic signs
Set speed in the driver assistance system (e.g. cruise control)
When you receive a call, the

Incoming Call message will appear on the Head-up Display.
In audio mode, the station name or track will be shown temporarily when the audio source is being actively operated.
System limitations
The visibility is influenced by the following conditions:
Seat position
The positioning of the display image
Light conditions
Wet roads
Objects on the display cover
Polarization in sunglasses
In extreme sunlight, sections of the display may appear washed out. You can correct this by switching the Head-up Display off and on again.
Switching the Head-up Display on/off