The tire pressure table is on the inside of the fuel filler flap.
The data shown in the images is example data.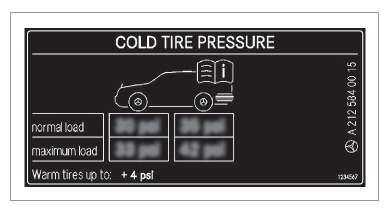 The tire pressure table shows the recommended tire pressure for all tires approved for this vehicle.
The recommended tire pressures apply for cold tires under various operating conditions, i.e.
loading and/or speed of the vehicle.
If one or more tire sizes precede a tire pressure, the tire pressure information following is only valid for those tire sizes.
The load conditions "partially laden" and "fully laden" are defined in the table for different numbers of passengers and amounts of luggage. The actual number of seats may differ from this.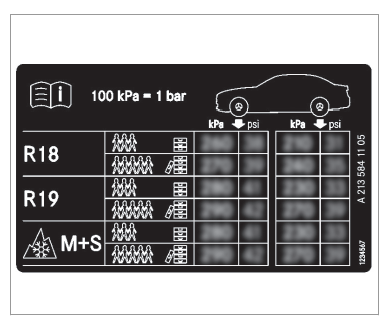 Some tire pressure tables only show the rim diameter instead of the complete tire size, e.g.
R18. The rim diameter is part of the tire size and can be found on the tire side wall.
Be sure to also observe the following further related subjects:
Notes on tire pressure.
Tire and Loading Information placard.
Maximum tire pressure.
Checking tire pressures manually
Read the tire pressure for the current operating conditions from the Tire and Loading Information placard or the tire pressure table. Observe the notes on tire pressure.
Remove the valve cap of the tire to be checked.
Press the tire pressure gauge securely onto the valve.
Read the tire pressure.
If the tire pressure is lower than the recommended value, increase the tire pressure to the recommended value.
If the tire pressure is higher than the recommended value, release air. To do so, press down the metal pin in the valve, e.g. using the tip of a pen for example. Then check the tire pressure again using the tire pressure gauge.
Screw the valve cap onto the valve.
Further related subjects:
Notes on tire pressure
Tire pressure table
Tire and Loading Information placard