US tire regulations stipulate that every tire manufacturer or retreader must imprint a TIN in or on the side wall of each tire produced.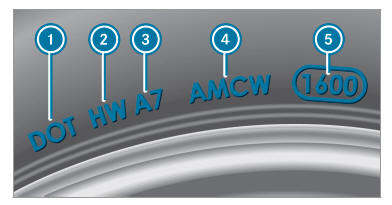 The data shown in the image is example data.
The TIN is a unique identification number to identify tires and comprises the following:
DOT (Department of Transportation): tire symbol marks 1 indicating that the tire complies with the requirements of the US Department of Transportation.
Manufacturer identification code: manufacturer identification code 2 contains details of the tire manufacturer. New tires have a code with two symbols. Retreaded tires have a code with four symbols. Further information on retreaded tires.
Tire size: identifier 3 describes the tire size.
Tire type code: tire type code 4 can be used by the manufacturer as a code to describe specific characteristics of the tire.
Manufacturing date: manufacturing date 5 provides information about the age of a tire. The 1st and 2nd positions represent the calendar week and the 3rd and 4th positions state the year of manufacture (e.g. "3208" represents the 32nd week of 2008).
Information on the maximum tire load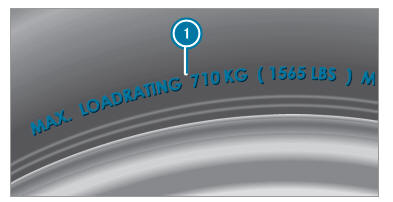 The data shown in the image is example data.
Maximum tire load 1 is the maximum permissible weight for which the tire is approved.
Do not overload the tires by exceeding the specified load limit. The maximum permissible load can be found on the vehicle's Tire and Loading Information placard on the B-pillar on the driver's side.
Specifications for maximum tire pressure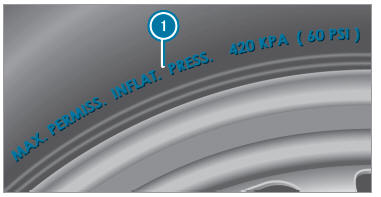 The data shown in the image is example data.
Never exceed maximum tire pressure 1 specified for the tire.
Information on tire characteristics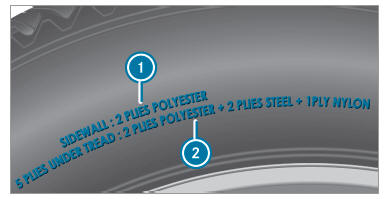 The data shown in the image is example data.
This information describes the type of tire cord and the number of layers in side wall 1 and under tire tread 2.