WARNING Risk of injury through exceeding the specified tire load rating or the permissible speed rating
Exceeding the specified tire load rating or the permissible speed rating may lead to tire damage and to the tires bursting.
Therefore, only use tire types and sizes approved for your vehicle model.
Observe the tire load rating and speed rating required for your vehicle.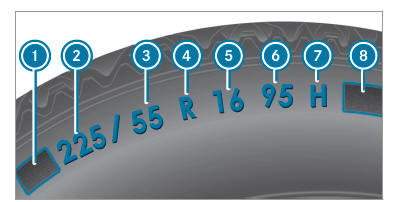 Preceding letter
Nominal tire width in millimeters
Aspect ratio in %
Tire code
Rim diameter
Load-bearing index
Speed rating
Load index
The data shown in the image is example data.
Information about reading tire data can be obtained from any qualified specialist workshop.
Preceding letter 1:
Without: passenger vehicle tires according to European manufacturing standards.
"P": passenger vehicle tires according to US manufacturing standards.
"LT": light truck tires according to US manufacturing standards.
"T": compact emergency spare wheels with high tire pressure that are only designed for temporary use in an emergency.
Aspect ratio 3:
Ratio between tire height and tire width in percent (tire height divided by tire width).
Tire code 4 (tire type):
"R" radial tire
"D": bias ply tire
"B": bias belted tires
"ZR": radial tire with a maximum speed above 149 mph (240 km/h) (optional)
Rim diameter 5:
The diameter of the bead seat (not the diameter of the rim flange). The rim diameter is specified in inches (in).
Load-bearing index 6:
Numerical code that specifies the maximum load-bearing capacity of a tire (e.g. "91" corresponds to 1356 lbs (615 kg) ).
The load-bearing capacity of the tire must be at least half the permissible axle load of your vehicle.
Do not overload the tires by exceeding the specified load limit.
See also:
Maximum permissible load on the Tire and Loading Information placard
Maximum tire load
Load index
Speed rating 7:
Specifies the approved maximum speed of the tire.
An electronic speed limiter prevents your vehicle from exceeding a speed of 130 mph (210 km/h).
Make sure that your tires have the required speed rating. You can obtain information on the required speed rating from an authorized Mercedes-Benz Center.
Summer tires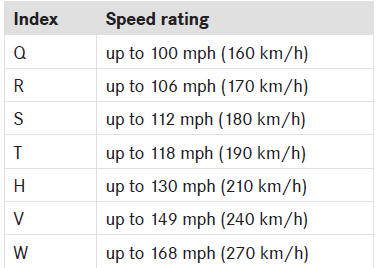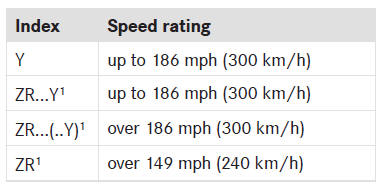 Specifying the speed rating as the "ZR" index in tire code 4 is optional for tires up to 186 mph (300 km/h).
If your tire code 4 includes "ZR" and there is no speed rating 7, find out what the maximum speed is from the tire manufacturer.
If load-bearing index 6 and speed rating 7 are in brackets, the maximum speed rating of your tire is above 186 mph (300 km/h). To find out the maximum speed, ask the tire manufacturer.
All-weather tires and winter tires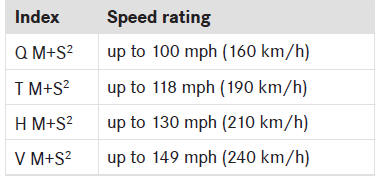 Winter tires bear the

snowflake symbol and fulfill the requirements of the Rubber Manufacturers Association (RMA) and the Rubber Association of Canada (RAC) regarding the tire traction on snow.
1 "ZR" stated in the tire code.
2 Or "M+S

" for winter tires
Load index 8:
No specification given: standard load (SL) tire
"XL" or "Extra Load": extra load tire or reinforced tire
"Light Load": light load tire
"C", "D", "E": a load range that depends on the maximum load that the tire can carry at a certain pressure