Mercedes-AMG vehicles: observe the notes in the Supplement. Otherwise, you may fail to recognize dangers.
Apart from some country-specific variants, vehicles are not equipped with a tire-change tool kit.
For more information on which tire-change tools are required and approved for performing a wheel change on your vehicle, consult a qualified specialist workshop.
You require the following tools, for instance, to change a wheel:
Jack
Chock
Lug wrench
Alignment bolt
The tire-change tool kit is located under the trunk floor.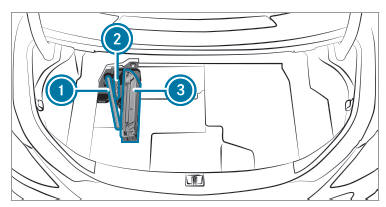 Lug wrench
Folding chock
Jack
Setting up the folding chock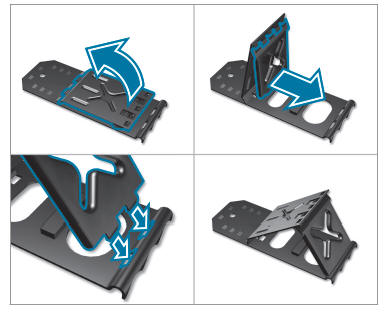 Preparing the vehicle for a wheel change
Requirements:
The required tire-change tool is available. If your vehicle is not equipped with the tirechange tool kit, consult a qualified specialist workshop to find out about suitable tools.
The vehicle is not on a slope.
The vehicle is on solid, non-slippery and level ground.
Apply the electric parking brake manually.
Move the front wheels to the straight-ahead position.
Vehicles with automatic transmission: Shift into position P.
Vehicles with level control system: Set the normal vehicle level.
Switch off the engine.
Make sure that the engine cannot be started.
Place chocks or other suitable items under the front and rear of the wheel that is diagonally opposite the wheel you wish to change.
Remove the hub caps if necessary.
Raise the vehicle.