Legend
Fuel feed module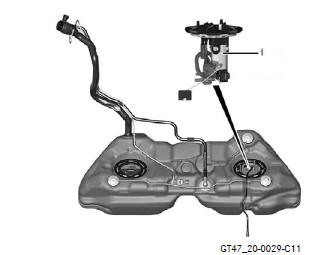 New lock rings have been introduced to attach the fuel feed modules in the fuel tank in model series 204.
After a fuel feed module has been detached, the gasket between the fuel feed module and the fuel tank must always be replaced for safety reasons.
When attaching the lock rings, they must be turned clockwise with force using the special tool (claw wrench).
The lock ring is locked when the catch tabs latch between the recesses on the locking claws.
A lock ring that is not latched in correctly may become loose, which may result in leaks in the fuel tank!
Information for Service
The fuel feed modules can only be detached and attached using a special tool (W 001 589 00 07 00).
For additional information see AR 47.10-P-4100-02 CWA