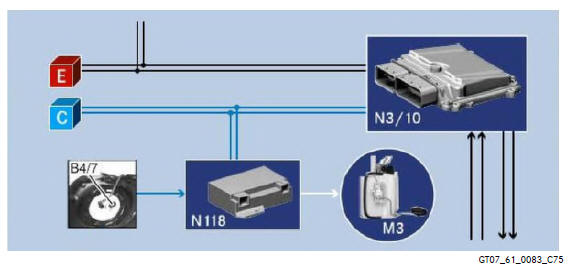 The vehicles with gasoline engines M271 and M272 will be equipped with a newly developed, electronically controlled fuel supply. The main difference is that the fuel quantity is controlled according to the actual fuel requirements of the engine and, as a result, the idle power of the electric fuel pump has been significantly reduced.
This control unit consists of a control and power electronics unit.
The fuel pump control unit is connected to the fuel pump, fuel pressure sensor, and the ME engine control unit via the two connectors.
Advantages of this system include:
Significantly less power consumption by the electric fuel pump and, as a result, less load on the on-board electrical system
Lower rotational speed of the electric fuel pump, which means that the noise emissions are significantly reduced.
The fuel pump control unit has diagnostic capability and can be read out using STAR DIAGNOSIS.
Information for Service
FSCU Fuel System Control Unit