Mercedes-Benz C-Class (W205) 2015 - 2021 Owners Manual: Ashtray and cigarette lighter
Using the ashtray in the front center console
NOTE Damage to the stowage compartment under the ashtray
The stowage compartment under the ashtray is not heat resistant and could be damaged if you rest a lit cigarette on it.
Make sure that the ashtray is fully engaged.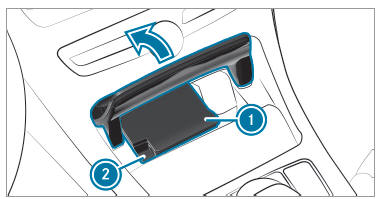 To open: push up cover 2 of the ashtray on its right or left side.
To remove the insert: press insert 1 upwards slightly and pull it out upwards.
To re-install the insert: press insert 1 into the holder until it engages.
Using the ashtray in the door stowage compartment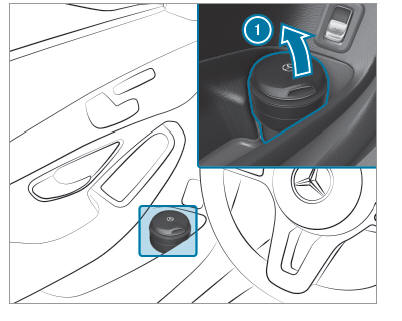 While driving: place the closed ashtray in the front door stowage compartment while driving.
Check that it is seated firmly.
Comply with the notes on loading the vehicle.
To open: fold lid 1 upwards.
Twist the top part of the ashtray to remove it for cleaning, e.g. with clear, lukewarm water, or for emptying.
Using the rear passenger compartment ashtray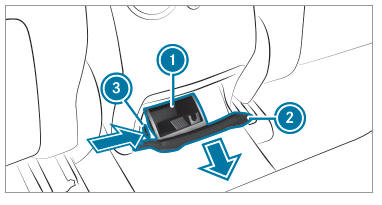 To open: pull cover 2 out by its top handle edge.
To remove the insert: push ribbing 3 from the left side and pull insert 1 upwards and out.
To install the insert: install insert 1 from above and press down on the holder until it engages.
Using the cigarette lighter in the front center console
WARNING ‑ Risk of fire and injury from hot cigarette lighter
You can burn yourself if you touch the hot heating element or the socket of the cigarette lighter.

In addition, flammable materials may ignite if:
you drop the hot cigarette lighter
a child holds the hot cigarette lighter to objects, for example
Always hold the cigarette lighter by the knob.
Always make sure that the cigarette lighter is out of reach of children.
Never leave children unattended in the vehicle.
Requirements:
The ignition is switched on.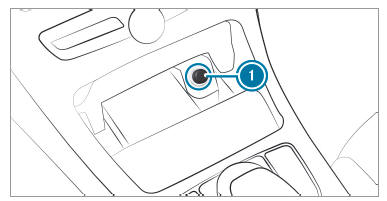 Mercedes-Benz C-Class (W205) 2015 - 2021 Owners Manual
Mercedes Benz C-Class (W204) 2007 - 2014 Training Manual
© 2023 Copyright www.mersec.net
0.0059