Mercedes-Benz C-Class (W205) 2015 - 2021 Owners Manual: Cup holder
Installing the cup holder in or removing it from the center console (automatic transmission)
WARNING ‑ Risk of accident or injury when using the cup holder while the vehicle is moving
The cup holder cannot secure containers while the vehicle is moving.

If you use a cup holder while the vehicle is moving, the container may be flung around and liquids may be spilled. The vehicle occupants may come into contact with the liquid and if it is hot, they could be scalded. You could be distracted from traffic conditions and you may lose control of the vehicle.
Only use the cup holder when the vehicle is stationary.
Only use the cup holder for containers of the right size.
Close the container, particularly if the liquid is hot.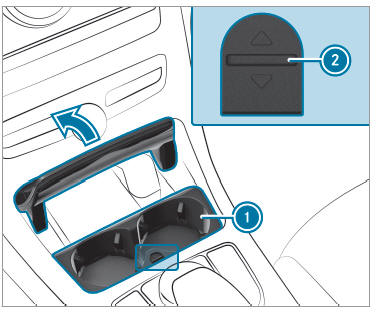 To remove: slide catch 2 forwards and pull out cup holder 1.
To install: insert cup holder 1 and slide back catch 2.
The cup holder rubber mat can be removed for cleaning, e.g. using clean, lukewarm water.
Opening or closing the cup holder in the rear armrest
NOTE Damage to the rear armrest
When folded out, the rear armrest can be damaged by the weight of your body.
Do not sit or support yourself on the rear armrest.
NOTE Damage to the cup holder
When the rear armrest is folded back the cup holder could become damaged.
Only fold the rear armrest back when the cup holder is closed.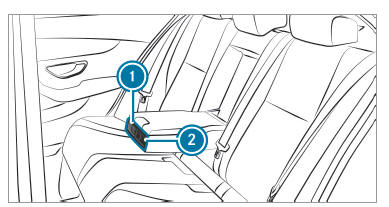 Mercedes-Benz C-Class (W205) 2015 - 2021 Owners Manual
Mercedes Benz C-Class (W204) 2007 - 2014 Training Manual
© 2023 Copyright www.mersec.net
0.0056