Switching the windshield wipers on/off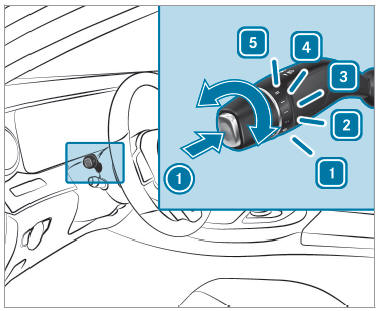 Windshield wiper off

Intermittent wiping, normal

Intermittent wiping, frequent

Continuous wiping, slow

Continuous wiping, fast
Turn the combination switch to the corresponding position 1 - 5.

Single wipe/washing: push the button on the combination switch in the direction of arrow 1.

Single wipe

Wipes with washer fluid
Changing the windshield wiper blades
WARNING Risk of becoming trapped if the windshield wipers are switched on while wiper blades are being replaced
If the windshield wipers begin to move while you are changing the wiper blades, you can be trapped by the wiper arm.
Always switch off the windshield wipers and the ignition before changing the wiper blades.
Moving the wiper arms to the change position
Switch the ignition on and switch off again immediately.

Within around 15 seconds, press the button on the combination switch for approximately three seconds.

The wiper arms will move into the change position.
Removing the wiper blades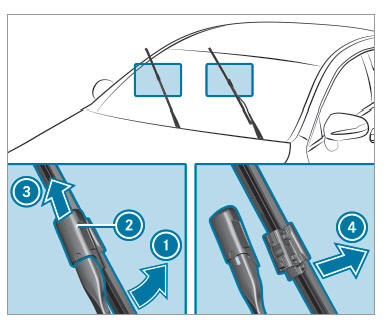 Hold the wiper arm with one hand. With the other hand, turn the wiper blade in the direction of arrow 1 away from the wiper arm as far as it will go.
Slide catch 2 in the direction of arrow 3 until it engages in the removal position.
Remove the wiper blade from the wiper arm in the direction of arrow 4.
Installing the wiper blades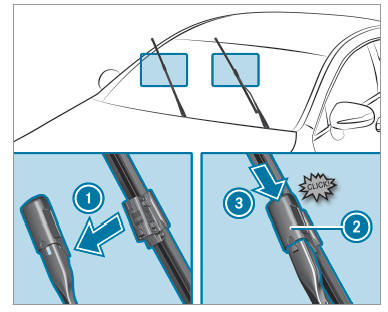 Maintenance display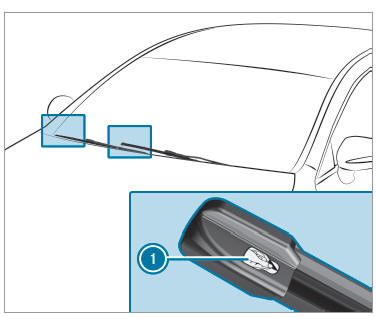 Remove protective film 1 from the maintenance display on the tip of the newly installed wiper blades.
If the color of the maintenance display changes from black to yellow, the wiper blades should be replaced.
The duration until the color changes varies depending on the usage conditions.