To achieve maximum vehicle dynamics, the front axle units including the steering gear are preassembled together with the engine and transmission on a frame-type integral support.
The principle of a 3-link front axle, but in a more advanced design, has been selected for the front suspension.
Its basic features are two individual links (torque strut and cross strut) in the bottom link level, whose need for power has been further reduced with a view to improving comfort.
The stabilizer bar is connected to the suspension strut. The rubber bushings are vulcanized on.
The torque strut, which faces forward at an angle, as well as the cross strut located in the transverse direction are designed as weight-optimized forged aluminum components. The third link is the tie rod as part of the new rack-and-pinion steering.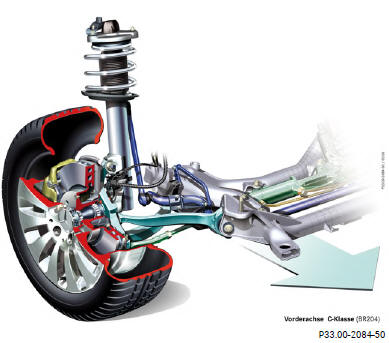 Service information
The correction of camber and caster is performed in the same way as for model series W 203 via "repair bolts".
The stabilizer bar at the front axle has "rubber bushings that are vulcanized on" and is only replaceable in its entirety.