All components of the rear axle have been modified with the aim of increasing comfort. The design of the subframe carrier, struts, the wheel carriers and the subframe has been revised. In the new development, a lightweight design has been implemented throughout, e.g. the subframe in thinner panel thicknesses and wheel control parts made from aluminum to reduce the unsprung masses.
As a result of these measures, it has been possible to achieve a suspension of outstanding comfort with exceptional vehicle dynamics.
The front subframe carrier is hydraulic, the spring control arm bearing is integrated into the rear axle carrier.
The frontmost rear axle gear bearing is bolted on.
Additional support pates at the front (for NVH/crashes).
NVH = Noise, Vibration, Harshness.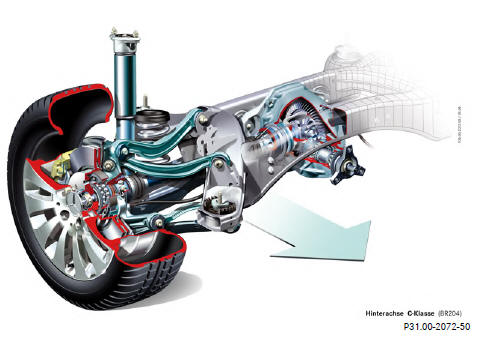 Information for Service
The stabilizer bar at the rear axle has "rubber bushings that are vulcanized on" and is only replaceable in its entirety.