Service brakes
The brake system for the sedan in the new C-Class with the hydraulic dualcircuit brake and the division into two brake circuits for front and rear axle largely corresponds to the previous version.
All versions are equipped with floating caliper brakes at the front and rear.
Service information: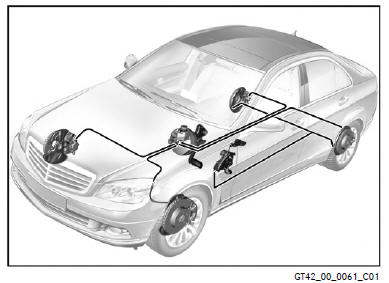 Integrated into the standard installation "ESP brake", which is controlled via the ESP control unit and the ESP hydraulic unit that is connected directly to it, are the following functions:
Base functions: ABS, ASR, ETS, ESP, BAS
Assist functions: Cruise control, tire pressure loss warner
Added-value functions: Hill Start Assist, trailer stabilization, dry braking, precharging, AIR Gap, PRE-SAFE-MASTER, adaptive brake lights
Parking brake
The vehicles in model series W204 are equipped with a mechanical parking brake.
A spring is integrated into the parking brake pedal.
This compensates for any "cable slack".
Legend
Parking brake pedal assembly
Electrical connectors
Trigger cable
Retaining tab
Front brake cable
Disconnection point
Screws
Retaining clip
Parking brake pedal
S12 Parking brake indicator switch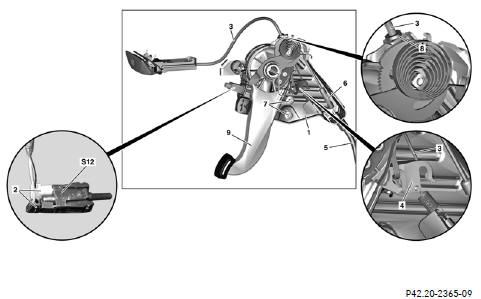 Information for Service
The parking brake is maintenance-free and does not require adjustment.
For work on the parking brake, use the following special tool to disconnect the cables: W204 589 00 16 00.
The basic setting of the parking brake takes place "at the wheel brake" using knurled screws.