Installed in the basic vehicle with the AGILITY CONTROL steering is a standard steering gear (i = 14.5) from ThyssenKrupp Presta SteerTec.
Speed-sensitive power steering with the variable mid-centering already used in the S-Class is available as special equipment.
Both the manual torque and also the mid-centering are dependent on speed.
Consequently, the manual torque already known from the speed-sensitive power steering for parking and maneuvering procedures and the maximum rigidity and stability of the vehicle at high speeds have been expanded by a very responsive on-center feeling.
A dedicated steering gear with a more direct steering ratio (i = 13.5) has been developed for the sports suspension special equipment and the "ADVANCED AGILITY package" special equipment with sports driving mode.
This is intended to underscore the sporty nature of this special equipment.
This steering gear is only available as speed-sensitive power steering.
A further variant is a specially adapted standard steering gear for USA and Canada.
The steering gear housing is designed as two pieces. Both the steering gear housing and the valve housing are made from aluminum to cut down the weight.
The toothed rack is made of high-strength steel. This has achieved a weight saving of around 0.8 kg compared to the W 203.
The steering gear is rigidly connected to the frame-type integral support.
The toothing is constant across the steering wheel angle.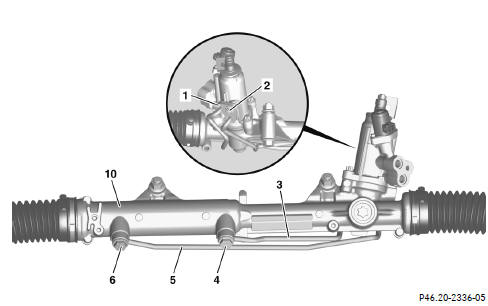 Legend
Retaining plate
Screw
Pipeline
Bolt
Pipeline
Bolt
Rack-and-pinion steering
Service information
The steering play is adjusted using the thrust piece by means of a "special screw"
Evaluating the steering rack when repairing accident vehicles:
Accidents with body damage: For accidents resulting in body damage (e.g. distorted fender, longitudinal member, side paneling, rear section, etc.), the steering gear may still be used provided that parts of the front axle, the steering gear or the steering linkage have not been damaged.
Accidents with permanent distortions at the front axle or steering linkage: The steering gear must be replaced for safety reasons if parts of the front axle, the steering gear or the steering linkage have been permanently distorted.
Accidents in which the driver airbag has deployed: In the event of accidents that caused the driver airbag to deploy, the steering wheel and the jacket tube must always be replaced.