Mercedes-Benz C-Class (W205) 2015 - 2021 Owners Manual: Hooking in the parcel net
WARNING Risk of injury due to objects being stowed incorrectly
If you do not adequately stow objects in the vehicle interior, they could slip or be tossed around and thereby strike vehicle occupants.

In addition, cup holders, open stowage spaces and mobile phone brackets cannot always restrain the objects they contain in the event of an accident.

There is a risk of injury, particularly in the event of sudden braking or a sudden change in direction.
Always stow objects in such a way that they cannot be tossed about in these or similar situations.
Always make sure that objects do not project from stowage spaces, parcel nets or stowage nets.
Close the lockable stowage spaces before starting a journey.
Always stow and secure objects that are heavy, hard, pointed, sharp-edged, fragile or too large in the trunk.
Observe the notes on loading the vehicle.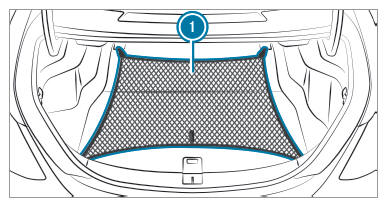 Vehicles with through-loading feature in the rear bench seat: Fold up the tie-down eyes.
Hook parcel net 1 into the front and rear tie-down eyes.
Vehicles without a through-loading feature in the rear bench seat: Hook the rings into the parcel net's hooks 1.
Hook the rings into the hooks on the trunk floor.
Mercedes-Benz C-Class (W205) 2015 - 2021 Owners Manual
Mercedes Benz C-Class (W204) 2007 - 2014 Training Manual
© 2023 Copyright www.mersec.net
0.005